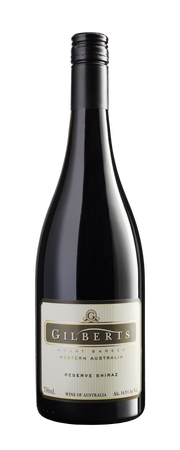 2018 Reserve Shiraz
2018 followed on from 2017 and was such a fantastic vintage. High yields and high quality. We have selected the best fruit from our estate vines to showcase what wonderful flavours our vineyard can produce.
This vintage has rich fruit and an array of exotic spices that partner with fine French oak. You can cellar this wine for a decade or enjoy the wonderful flavours now with Australian lamb or a hearty beef dish.
Product Reviews
Andrew Crisp
(21/06/2021 at 9:02 PM)
I bought it at DM's wanting something local and had never had anything from Gilbert's before, and on the strength of this I will definitely be taking a closer look at their wines. This shiraz shows alot of depth, with a great nose and palate. Not sure how long it would be good for cellaring, but I would seriously look at buying a case to put down for a while, maybe 5 years or a bit more. A good wine indeed.
Ross McGregor
(13/08/2021 at 10:25 PM)
Consistently great wine year after year. Displays all the characteristics you'd expect from a full bodied Shiraz. A reliable go-to every time. The earlier releases (mid 2000's and younger) are also drinking well. You can never go wrong with this wine - it's a hidden gem from the south west of WA.
Richard Playle
(07/10/2021 at 11:54 AM)
This is a perfectly balanced full flavoured red wine in what I would call the "chateau style". Excellent to accompany any premier cuisine one would wish to enjoy and remember. Well recommended.