Vineyard
The Great Southern Wine Region is made up of five sub regions and covers an enormous amount of land, stretching 100km north to south and 150km east to west. The region has been instrumental in the establishment of modern winemaking in Western Australia in the 1960's and is the largest wine-growing region in mainland Australia. It is also the coolest wine region in Western Australia.
Our 24 acre vineyard is situated in the northern section of the Mount Barker subregion of the Great Southern. The vineyard has been planted on a gravely loam soil base with warm sunny days and cool nights during growing season the perfect recipe to produce excellent fruit. The Mount Barker region and our vineyard have an incredibly high reputation for producing high class Riesling, Shiraz, Chardonnay and Cabernet Sauvignon.
Currently we have ten different wines in our range using the Estate grown fruit from our vineyard. Our wines reflect the strengths of the Mount Barker sub region. Each of our range of wines are produced in the pursuit of excellence. Our aim being to deliver great flavours and world class wines for you enjoy at fantastic value.
This range of wines are our most highly sought after wines. They are multi award winning wines that highlight the strength of the Mount Barker sub region in the Great Southern. That is outstanding Riesling, Shiraz and Chardonnay.
Founders Jim and Bev Gilbert had three sons, all aged four and under at one stage. No guessing where the inspiration for this range name came from. This range seriously over delivers at its price point!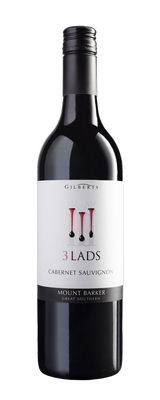 An extension to the story of the 3 Devils range. The three boys are now older and more mature hence their movement into the "Lads" category. This range features our Cabernet Sauvignon, a small high quality batch of wines.
This is the newest range edition at Gilberts. Released in 2018 the JMG range pays tribute to our founder the late Jim Gilbert. The 'JMG' being Jim's initials. Jim loved his wine and living life for the moment. Grab a bottle, pour a glass and enjoy life!
Founder, Bev Gilbert had three sons, at the time of design all animals on the farm were male, she needed to put her stamp on something and hence the stunning label design of this range. How good does the label look! Wait until you try the wines...even better!
You know you want to
Sign Up For Our Newsletter
Keep up to date on the latest wine releases, events, and promotions and get 10% off your next order.