Our People
Four generation of Gilberts have been harnessing flavours from our property in the Great Southern region of Western Australia. We have the third generation of Gilberts, Jim and Bev Gilbert to thank for our evolution and success into the wine industry. Their passion kickstarted our journey in 1985 to become where we are today.
Bev Gilbert
CO FOUNDER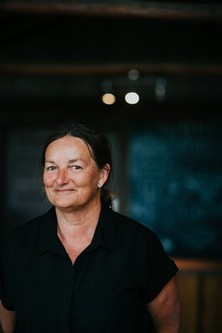 After a successful career as a teacher in Perth, Bev moved back to her husband Jim Gilbert's family farm in 1985. It was at this time that Jim and Bev decided to diversify on the family farm, to generate an income to support their newly formed family (1985 Bev gave birth to the first of three sons, Clinton Gilbert), the first vines were planted and from here Bev's journey in the wine industry began.
Bev now has 35 years experience in the wine industry and has taken on many different roles along the journey.
Currently, Bev is supporting the fourth generation of Gilbert's with the business. You can catch up with Bev at the cellar door, working in the cafe or out marketing our wines so you can enjoy the wonderful flavours of our wines and the high degree of expertise that 35 years in the wine industry gives you.
Clinton Gilbert
MANAGER AND HEAD OF SALES AND MARKETING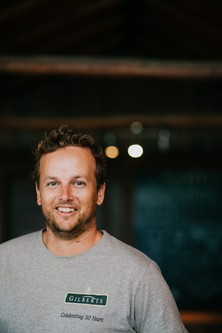 Clinton is the oldest of founders Jim and Bev Gilberts three boys. Clinton returned home to the family farm and business from the UK where he was playing cricket at the end of 2014. Clinton is CPA qualified and had a successful seven year career as a Tax Consultant in West Perth.
It was quite the big move in 2014 returning to the family business and was largely due to the diagnosis of Jim Gilbert with Motor Neurone Diesease. Clint returned back to spend valuable time with Jim (dad) and assist Bev with running the family business. It was a quick learning curve and in the space of 8 months he was running the business with brother Matthew Gilbert, as Bev took on the role of full time carer for Jim.
Fast forward six years and today Clinton's passion and knowledge has increased ten fold. In charge of our Sales and Marketing team, Clinton loves showcasing our wines all across the country. You will also see him pouring wines at the cellar door and is always open to chatting about our history and what the future has in place for Gilberts.
Clinton also has a strong passion for sport and is heavily involved locally in Cricket and Football, helping the local communtiy grow and prosper.
MATTHEW GILBERT
CHIEF VITICULTURIST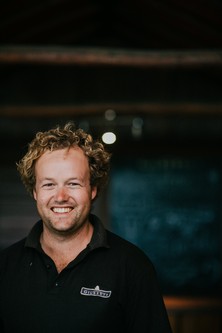 Matthew is the middle son of Jim and Bev Gilberts three boys. Matthew returned home to the family farm and business at the end of 2014 from Perth. Matthew is a qualified primary school phys ed and classroom teacher with over 8 years experience. Like older brother Clinton, Matthew returned home to spend valuable time with Jim (dad) and to assist Bev with running the family business.
It was a steep learning curve for Matthew as he also had to take over the reigns of not only the viticulture of our vines but also the livestock that we run as well on the property.
Six years on today Matthew's skills and knowledge have increased signigicantly and the wonderful wines that we produce today are a testiment to his hard work.
Matthew continues to juggle his work committments at Gilberts with his teaching career, teaching at a local primary school two days a week.
Matthew has a strong passion for Tennis, Cricket and Football in the local community.
You know you want to
Sign Up For Our Newsletter
Keep up to date on the latest wine releases, events, and promotions and get 10% off your next order.